Registration
---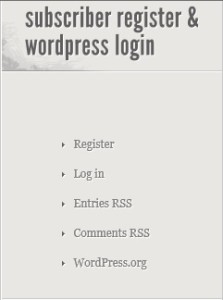 You can become a subscriber to KFFMenterprises and get onto my mailing list. You'll receive my regular newsletters and be notified from time to time of new product offers coming to the website that I think will interest you.
You will see on the main page, to the right, on the information bar, a section that looks like the image to the left. Just select Register and you'll be taken to the WordPress USER login page.
Just select "Register" underneath the "log in" fields and follow the instructions to register and you'll become a subscriber to my website. This just takes a minute or two of your time. I'll do the rest from that point on.
You'll be able to select your own password, so anytime you wish to change your personal information or if you wish to opt out from my site, you'll have the control to do so. It's up to you. I don't go into each individual account on my end. Control is left to you to protect your privacy.
I don't bombard my subscribers with ads, but from time to time, I'll send you either reminders of what's on the website or give you advanced notice of a new product coming to the website you may wish to check into and purchase. I also offer sales from time to time, but only to my signed in subscribers.
I will NOT share your information with third parties outside the KFFMenterprises network. I only ask for your full name and email address, so I can send you regular offerings from my growing product line. I respect your privacy and am seeking to build a good reputation with all my subscribers and those who purchase from me.
New offerings will be coming to the KFFMenterprises website in the time ahead, while old products are taken away. Some products will remain regulars on the website.
So stay subscribed and get my regular notices, so you don't miss out on the wonderful offerings coming to this website. If you have any questions, feel free to use the email address to contact me. Remember your emails will be kept private. I will not share your email address or your name with anyone else, so your privacy is respected. Thank you for your interest.
Enjoy your visits to my website and thank you for your interest in KFFMenterprises!
Thoughtfully,
Kevin F. Montague
Author, Scholar, Artisan, Scientist & NDEx2
http://kffmenterprises.com/the-masters-key/