Bursting the Bubble I
CD ALBUM: Real sounding music without real musicians. All instrumentals: Created using the EnergyXT2.5 computer program. Originally composed, assorted popular themes. Music you can dance to, party to, drive to, use as background music or just have fun with! / Click Here to Learn More!
Product Information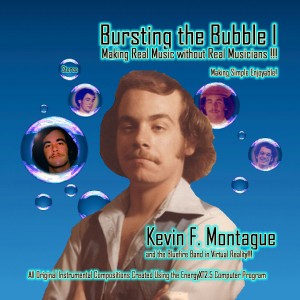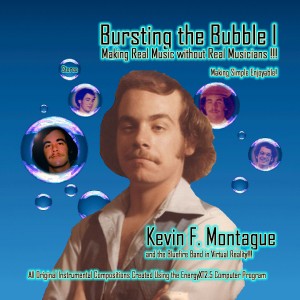 Imagine, if you will . . .you are back in the 1970's when vinyl records were the buzz word of the music industry. Now imagine, what that time period might have been like, if plasma screen televisions, the Internet, electronic keyboards and microwave ovens were not something you read about in something like Science Magazine in the 1960's? What might the time period have been like, if those items existed back then?
Keep in mind a kid's school scientific calculator cost $200 back in the 1970's, which was equivalent to a full mortgage payment on your house these days or about $4,000. Now you can buy those calculators for $20 a pop at any electronics section of any store, like they were coming out of a gumball machine. Today's generation of kids and young adults can not even imagine what it would have been like to have to have worked solely with a slide rule to help them do their chemistry or math homework, given the personal computer didn't even exist back in those years. What's a slide rule you might ask? Look it up on Wikipedia! (chuckling) The only computer you did use was the one God gave you in your head, which really wasn't so bad, because it really made you exercise your brain cells: Kind of handy when you have to face life threatening dangers and don't have your cell phone with you.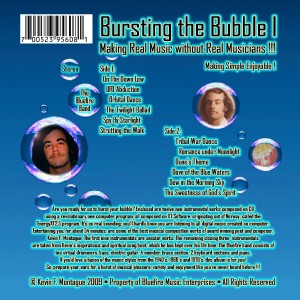 Well, Kevin F. Montague asked himself the question one day, what if all of this current day technology existed back in the 1970's, when he was a teenager? He did this one night while questioning what to do with the EnergyXT2.5 computer program he had purchased. So he sat down and started a six month journey of exploration in composition where he focused on some of the most popular musical ideas of the 1970's, as well as ideas from the present, to create a new album he eventually entitled "Bursting the Bubble I". Why Bursting the Bubble I, you may ask? Well, he says he won't really tell anyone why, until enough albums sell to pay off the mortgage on his house.
The goal was to create 12 instrumental works for this album. Everything was arranged and engineered in the form of dance music, California pop style; which Kevin thought would be great for parties, driving, or just upbeat background music while at work or at home for those who love his work.
Kevin also loves motion picture theme music. So don't be surprised, if his work has a flare for the dramatic in motion picture appeal, as you listen to his musical approaches in this album style. He wrote what he knew he liked and hoped everyone else from the present generation, even from his own generation, would love the ideas he came up with also.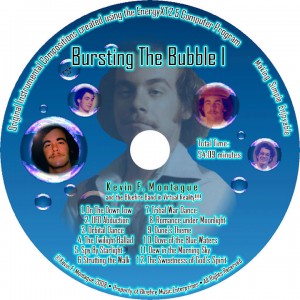 Kevin even made the CD album cover in the style and design of the old vinyl album covers of the 1970's. Just buy a copy! It even has a side one and two side on the cardboard, full color album cover. (Yes, we know that a CD does not have a side one and two, but don't tell Kevin that. You'll hurt his feelings if you do. He misses the old vinyl albums, because they remind him of his lost youth) 🙂
The whole thing is quite charming when you buy a copy and play it on your home stereo system which will sound magnificent when you do! Boy does this thing sound great, even in full stereo! It's even better with your earbuds on or a good set of expensive head phones. You won't believe the quality of the album's sound under the Bluefire Music Enterprise name! "It's brilliant!" we think Harry Potter would say, if he was listening to Kevin's magic! The sound sparkles like a jewel when you listen to the arrangements. Kevin did a masterful job with the EnergyXT2.5 computer program. The engineering is ingenious too, as you listen to the master mix play with your mind and your senses, with each beautifully composed instrumental piece.
It's so real sounding; you'll hardly know you are listening to all digital music created on computer. We tell our friends, Kevin was "making real music without real musicians", while he out did himself with this fun filled album concept on the EnergyXT computer program. For the money, you get close to an hour's worth of original music you'll enjoy playing again and again. What a bargain! The Bluefire band consists of two virtual reality drummers, bass, electric guitar, 4 member brass section, 2 keyboard sections, and piano. If you'd love a fusion of the music from the 1940's, 1960's and the 1970's, this album is for you, as the past and present come together in a fun filled way through the magic of today's computer technology! So, prepare your ears for a burst of musical pleasure, variety and enjoyment like you've never heard before when you buy your own copy!!!
Here samples from the album by clicking the GREEN button below which will take you to where the product is sold on CDbaby.com. You'll enjoy the selection and quality of this original music!
You can see how the production run was first done by going to my Bluefire Music Enterprises Facebook page. Use this link to see the photo album that will walk you through how the CD album was first created!