Tribute to a Wounded Spirit (remix)
This is a classic minuet approach with 20th century structures at the beginning and the end of the composition. This would be great for a movie on the Winchester Mystery House and is available for licensing from Bluefire Music Enterprises. / CLICK HERE to go to my CDbaby Artist Page!
Product Information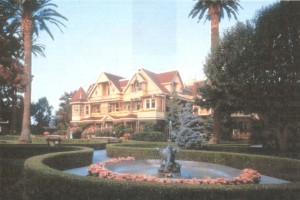 The Winchester Mystery House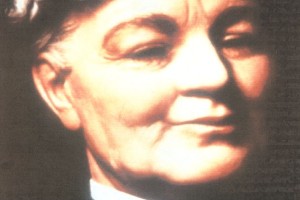 One day, while reading a news article in the papers about the famed Winchester Mystery House in San Jose, California, I got an idea for an album concept I wanted to do, simply entitle "The Mystery House". I was thinking along the lines of the format Elton John used in his Yellow Brick Road album in those days which started with "Funeral for a Friend" and was followed by "Love Lies Bleeding". So I went to work on an opening piece with four voices written for piano or harpsichord, entitled "Tribute to a Wounded Spirit". This piece was then to be followed by an upbeat Rock N Roll piece simply entitled "The Mystery House". The Mystery House never got recorded in a live studio performance with full a full band arrangement, but Tribute did get done recently. The piano score was written some 35 years ago while the ensemble arrangement was written back in 2011.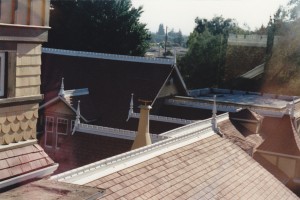 I only had the newspaper clippings to help me understand Sarah Pardee's mystery house. This was a place with stair wells that went up into ceilings. Doors that were not doors, but where just part of the wall. Closets on the second story, you would walk into that had no floor in them and dropped you to the first floor. Stair steps that were so shallow, it would take you hundreds of steps just to get to the first floor, unlike a normal stairway.
BUY NOW
The story behind Sarah's house is that she inherited the wealth of her husband who had invented the Winchester rifle, responsible for killing so many back in the days of the Old West, especially the Indians. She met a Sayer who told her that she would live forever, if she would invest into building a house for those lost souls who were caught between here and the ethereal realms. The condition to guarantee eternal life for Sarah was that the hammers and saws must never stop building while she was alive. So, out of love for the souls lost, she used her money to build this elaborate house which is now a California State landmark and the source of inspiration for me who wrote the ensemble piece I entitled "Tribute to a Wounded Spirit". I coined the name after all of those who had been wounded or shot by the Winchester rifle and Sarah's wounded heart over her husbands sins.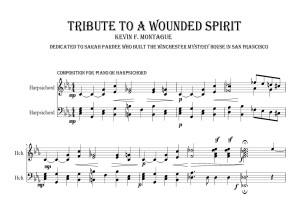 I recently procured a copy of the MuseScore 1.1 program. Yes indeed, I'm at it again, creating REAL music without REAL musicians, like I did with the EnergyXT2.5 computer program when I wrote my first of the four Bursting the Bubble albums I hope to write which you can buy on my artist page on CDbaby. However, this new work and recording has a lot put into it and it truly sounds great on the MuseScore 1.1 program. Of course being an excellent composer and arranger helps.
I had written down the piano score back in college by hand on music paper, so I had the pre-existing written work to help me typeset it in the MuseScore program easy enough; having worked out the composition some 35 years ago. My friend Kevin Norwood and I even did an all nighter creating my first recording of the work on 4 track. Naturally technology has come a long way since 1978 when you hear the final work recorded using the MuseScore program. It took about 3 weeks to set it up in MuseScore 1.1. I then turned the piano settings to harpsichord and then set up the score for string quartet, oboe, Eb clarinet, and flute. Why Eb clarinet? I guess I just love the mellow sound of the instrument and this piece begged for that mellowness because the style is a very sweet minuet format I think Sarah Pardee would have loved to dance to, if she had been alive to hear my arrangement, if it had been possible to present it to her. At least I'd like to think so.
The MuseScore 1.1 program is pretty intuitive, if you have a degree in music or have been studying music all your life like I have. I'm age 55 these days, with a wealth of understanding to what goes into writing good music. Still, I don't feel as accomplished as I'd still would like to be: Maybe in another life time that will happen?
BUY NOW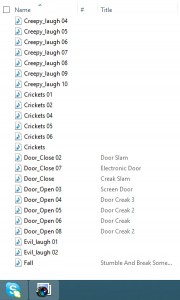 Once I had the score fully arranged and written, as well as the audio mix on my computer done, so it sounded great on my home stereo system, I went ahead with the second part of the recording . . .the sound effects. The score opens up with a rainy, stormy night. Sarah use to love to ride her buggy with her horses. We hear both Sarah and her buggy in the opening of the piece, as she is coming home quickly to get out of the rain. As she gets close to her elaborate home, we hear the tower bells ring 12 times. The news article I read said the spirits would come to the home to haunt it between the hours of 12 midnight and 3:00 pm. It is at this time, mysteriously, the rain stops and the crickets start to chirp. The sound of animals is heard in the front yard when no animals can be seen.
You can't help but be disturbed by the feel of it all. We hear Sarah walking the brick walkway up to her home. As she closes the front door behind her, it gets quieter, but we hear her grandfather's clock chime the 12 tones while one of her cats greets her upon entry into the house. She suddenly stops walking with some background thunder, as if she has seen something that has spooked her. It is at this point, the ensemble arrangement I did begins that describes her house in musical terms.
BUY NOW
The style of writing follows the rules of thinking that came out of the 17th Century, one of my favorite time periods. Toward the end of the piece, the rules are broken as the whole thing comes into the rules of 20th Century writing. It was that point of the transition toward the end of the piece where I would have liked to have scored it for full orchestra, along with the ensemble playing. With this, the sounds of the outdoors reappear in my mind, for we have finished our tour of Sarah's house and are outdoors in the atrium again wondering what we have seen while visiting her odd home. I even add in the sound of the saws and hammers the Sayer said must never stop. These are added in, close to the end of the ensemble arrangement.
This is a rich sounding work I'm proud of having written and one I know you will truly enjoy. It's great if you have kids and love to celebrate Halloween. So feel free to purchase a copy and play it at your Halloween party this year. You can tell people what its about, after having read my write up here. It should make you the talk of the party. Just tell others to purchase a copy to support me. That's all I ask. This work sounds great to hear all year round, not just at Halloween, but given the nature of Sarah's mansion, it seems right at home during the month of October, when everyone loves to celebrate Hallow's eve in the United States.
So, enjoy seeing and hearing the sample and do make sure to buy a copy for yourself, so you may hear the full, beautiful arrangement for your listening pleasure.
BUY NOW
Here is a re-broadcast of "This is Us" that was created through PBS on July 26th, 2011. This was a well done broadcast I enjoyed watching. I've added in my music "Tribute to a Wounded Spirit" into the background of the presentation. Once I saw this broadcast and how well done it was done, I noted that my music seemed to match it beautifully. So I went to work getting permissions to use the broadcast and layer in my music to show how well my minuet compliments this presentation of Sarah Pardee Winchester's old home in San Jose, now a California State Landmark. I had not composed the ensemble arrangement on the MuseScore 1.1 computer program, until after the broadcast. Maybe if I had written it out on the program sooner, I could have submitted the final work for consideration to be used on the finished broadcast and picked up some small royalties for my efforts. Still, I'm hoping a movie company, who needs a sound score for a motion picture film, using the Winchester Mystery house, will hear the work one day and contact me for licensing of the music for their film…while I'm still alive. Otherwise, if it happens after I die, I may have to come back and talk to the producer in the Winchester home as a spirit to sign the contracts. 😉
BUY NOW